THE DISTINGUISHED SERVICE AWARD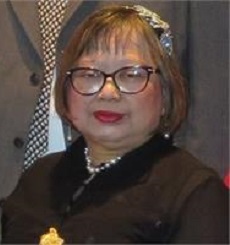 Lourdes Elona Lilley*
About The Distinguished Service Award

DSA Recipients
About The Distinguished Service Award
The Distinguished Service Award was established by the Executive Committee in 1988 to give Society-wide recognition to those members who, through dedicated personal service and/or technical contributions, have contributed much to SNAME and its various activities of the National and Section levels. 
Past Presidents and past medalists are not to be considered for the award.  This award may be presented annually to not more than five (5) members. The award consists of an appropriate plaque presented to each recipient. The presentation is made during a SNAME meeting.
Any SNAME member may submit a nomination on their own behalf, as well as for another member, with endorsement from his/her Section Chairman, using the nomination form approved by the Awards Committee. Nominations should be submitted to the Awards Committee no later than May 1 each year. Nominations submitted may be considered by the Awards Committee for as long as three (3) years. The Awards Committee shall take into account specific contributions, and shall use a scoring system as a guide in evaluating candidates. Point scores shall remain confidential within the Committee.
DSA Recipients
| | |
| --- | --- |
| 2022 | Lourdes Elona Lilley* |
| 2015 | Edward Lewandowski, Paul J. Roden, Richard A. Mueller |
| 2014 | David J. Singer |
| 2013  | Richard M. Burns, William B. Hale, William L. Hurley |
| 2012 | George F. Sidney |
| 2011 | Suzanne M. Beckstoffer, Frederick H. Ashcroft, Robert A. Sielski |
| 2008 | John A. Malone |
| 2007 | Barbara L. Lamb, Dawson Miller |
| 2006 | Richard C. Boutwell, Michael T. Martin |
| 2005 | James D. Sharrow |
| 2004 | John P. Hackett |
| 2002  | Michael L. Powell, Henry A. Olsen |
| 2001 | Robert S. Johnson, Edwin G. Wiggins |
| 2000 | Christopher J. Reyling, William J. Sembler |
| 1999 |  Alfred A. Bozzuffi, Ronald F. Briggs, Naresh M. Maniar, Richard C. Rodi, Harvard P. "Bud" Stewart* |
| 1998 | Peter A. Fisher, R. Keith Michel, Robert W. Peach*, Robert D. Tagg |
| 1997 | John C. Daidola, Paul B. Mentz, Wolfgang Reuter*, Bruce S. Rosenblatt, Robert J. Scott |
| 1996 | Jack W. Abbott*, Philip B. Kimball, John C. Maxham, William W. Rogalski, Jr., Arnold M. Stein* |
| 1995 | Amos Baki, John W. Boylston, Robert Cebulski, William H. Garzke, Jr. |
| 1994 | Edward W. H. Clendenning, David R. Rodger, Stuart W. Thayer* |
| 1993 | Allen Chin*, Thomas P. Mackey, George A. Uberti*, Charles W. Wilson* |
| 1992 | John H. Higginbotham, Robert G. Keane, Jr., William L. Lane*, Donald P. Roseman, David R. Zoller |
| 1991 | Roger H. Compton, Roy L. Harrington, Ralph E. Johnson, Raymond Kaufman, William duBarry Thomas* |
| 1990 | Everett A. Catlin*, Norman O. Hammer, Monroe D. Macpherson*, David A. O'Neil*, Warren I. Signell*, Abraham Taplin |
| 1989 | William H. Hunley, Robert L. Kelly, Donald E. Ridley*, Bruce C. Skinner, Daniel J. Weiler* |
| 1988 | Jean E. Buhler*, Alexander C. Landsburg, Edward M. MacCutcheon*, Richards T. Miller*, Frank H. Sellars* |