mt Advertising Information

Digital Advertising Information
mt Advertising Information

(mt) IN FOUR [QUARTERLY] PRINT ISSUES

Printed Quarterly, each issue of (mt) provides unmatched coverage about technology advances and
improvements, rules and regulations, case studies along with commentary on related public
policy issues. Helping the practicing naval architect, marine and ocean engineers perform at a
higher level. Eash issue is available in a digital format as well.
SNAME: Connecting Naval Architects and Marine Engineers for over 125 Years.
As the flagship publication of SNAME, (mt) is the trusted source for the latest technology, policy advances, and analysis. With a readership in excess of 80,000 (including online readers) this is a vital publication in the maritime industry! Only (mt) brings together SNAME professional members as contributors and readers, amid the international community of SNAME sections and members to publish industry leading content.

We Deliver Committed, Qualified Readers.
With a 92% SNAME member retention rate, (mt) readers are passionate advocates and users of products and services for the maritime industry, loyal to the advertisers who support their society. They are highly educated and highly involved in all aspects of purchasing for the marine industry. The level of industry experience [64% with 15+years and 29% with 30+ years] qualifies them as experts in the maritime industry.

The Leading Source for Buyers.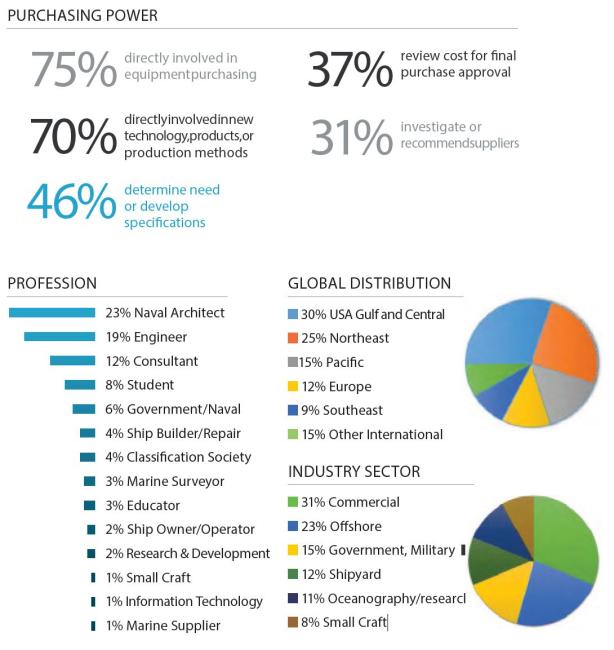 SNAME Members Demand Technical Credibility.
(mt) provides vital technical information and thought leadership to the global maritime industry and community of naval architects, marine and ocean engineers and related professionals.
(mt) CONTENT INCLUDES:
• Technological advances and improvements
• Case studies
• Professional notes for business
• Public policy discussion in every issue
(mt) has created a revised blend of content that is more relevant for architects and marine engineers.
(mt) PUBLISHES ORIGINAL CONTENT ORGANIZED AS FOLLOWS:
Feature articles [five at four to six pages each] include clear, concise graphics, drawings, tables, charts, or photos that show data that supports technical discussions. One of the features focuses on a ship or vessel report with standard drawing, characteristics and key specifications.
Departments provide opinion and editorial content in addition to member profiles, policy briefings, technical notes, SNAME paper abstracts, education, book, web site and media reviews and historical notes.

EDITORIAL CALENDAR
OCTOBER 2020 Issue
FOCUS: Regional Focus: Gulf of Mexico & the Caribbean

Advertising space close:          1 September
Advertising materials close:   4 September
JANUARY 2021 Issue
FOCUS: Propulsion
Advertising space close:         2 December
Advertising materials close:   5 December
APRIL 2021 Issue
FOCUS: Safety at Sea
Advertising space close:         2 March
Advertising materials close:   5 March
JULY 2021 Issue
FOCUS: Regional Focus: Mediterranean and Arabian Gulf
Advertising space close:         1 June
Advertising materials close:   5 June
OCTOBER 2021 Issue
FOCUS: High-Performance Craft
Advertising space close:          1 September
Advertising materials close:   4 September
Preferred format: PDF/X-1A
All fonts and images must be embedded.
All elements must be CMYK.
Black text should be built with black only.
Trim size:    8 1/8 x 10 7/8 
Bleed size: 8 3/8 x 11 1/8
All non-bleeds ads should be built to 100% of the non-bleed specs.
All bleed ads - Material not intended to bleed should be kept 1/8-inc from gutter and 1/4-inch from trim.
Digital Advertising Information
The Legacy is Online.
 
WWW.SNAME.ORG
A repository for all things SNAME: Technical Information (current and historical), Events (SNAME Sponsored and Industry Wide), Committees/Communities, Member Direrectory, etc.. SNAME.org is a place where members connect, network, collaborate and the public is invited to learn more about our industry.
SNAME.org is the "go to" site for information for all sectors of the maritime industry. An ad on our site will get you in front of decision makers daily.
 
 
Rate Per Month
Rate Per Quarter

Banner Ad
728x90

$500
$1,400
Sidebar Ad
300x250
$500
$1,400
SNAME WEEKLY MESSAGE
A weekly message distributed to over 20,000 SNAME members and non-members, content includes news items, committee updates, upcoming association and industry programs and events, member profile, etc.
 
 
Rate Per Month
Rate Per Quarter

Weekly Message Ad 
600x150

$1,500
$4,000
Click below to request more information/place your ad, or contact us with any questions.