Member Spotlight - Shawn Henderson
Image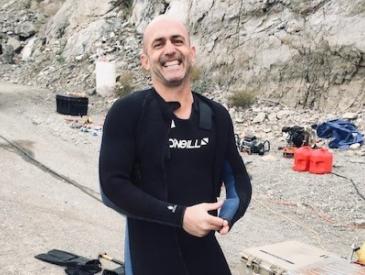 Shawn Henderson is a professional engineer with an extensive background in technical damage assessment and marine refit based on experience working for the Navy and commercial sectors. Shawn has excellent client communication skills; he has managed several complex interdisciplinary projects for clients related to repair/modification as well as designed many innovative tools and structures.
Shawn began his underwater career as a U.S. Navy Diver and served in the first Persian Gulf conflict. Following his service, Shawn pivoted to the commercial sector, traveling the globe as an underwater welder for projects as far south as Patagonia and as far east as Tahiti. In 2007, Shawn earned his Ocean Engineering degree from Florida Atlantic University which commenced the current phase of his career as a hybrid diver/ocean engineer. Recognizing the exceptional value of his unique skillset and experience, Shawn launched Henderson & Associates, PLLC in 2014.   
The mission of Henderson & Associates, now headquartered in Jacksonville, FL, is to promote safety, efficiency, and accountability in the underwater services sector. The firm combines over 30 years of practical underwater experience with precision engineering to spearhead interdisciplinary projects for public and private clients in all marine sectors, including defense, underwater infrastructure, offshore energy, commercial shipping and salvage.
Questions:
At what point in your career did you join SNAME?

At the urging of my professors from FAU, I joined SNAME in 2011 and have been active ever since. As Chair of the Southeast Section, I have enjoyed working with our members and staff to pull together exciting, educational events across the Southeast. In fact, I'm heading to Key West this week for an event we're hosting at the Jules Verne Undersea Lodge. I'm even bringing two of my young daughters so they can learn right alongside with us!
How has SNAME membership been of value to you in your career?

SNAME has been pivotal to my career. For one, the connections from fellow members have been priceless. The most lucrative project referrals I've received have come from SNAME members. Also, the continuing education component of SNAME has been inspiring. Having come up from the hard-hat diving community, I truly appreciate SNAME's focus on precision and safety. An unofficial motto at Henderson & Associates is: "Slow is smooth, and smooth is fast." While folks in the commercial diving sector might find this philosophy challenging, SNAME members get it. Engineers take our time to get things right from the start, which ultimately saves our clients time and money (not to mention safety!) in the long run. It's tough to remain steadfast when we're out on dynamic, fast-paced jobs, but SNAME allies help keep me focused and steady in the face of seeming chaos out in the field.   
When did you know you wanted to pursue a job in the maritime field?

I've always been fueled by a sense of adventure and curiosity. As a kid, I dreamed of being an archaeologist which, after my years as a Navy Diver, evolved into a passion for underwater archaeology. As a commercial diver, I had a tremendous opportunity to see the world while also working long, focused hours in tough conditions. When working at depth, you've got to channel a zen-like focus that becomes meditative. I've come to love that flow state. At Henderson & Associates, we're engineering systems to enhance safety and efficiency for the next generation of underwater workers so more young people can get involved in our industry.
What advice would you give to those entering the maritime field

? Join SNAME! Seriously, we've got great outreach with universities across the country and SNAME's effort to cultivate future ocean engineers is remarkable. On a personal level, I am often approached by young people who think they want to work under the ocean. My typical response is, "Do you like to be cold and wet?" You've got to have grit and determination to work maritime. The ocean engineering sector is small, but growing fast and evolving quickly, just like our planet's dynamic ocean ecosystems. There's a lot of risk and uncertainty involved in making your living on the ocean. But that just makes our profession even more critical.
What do you do in your spare time?

Considering the demands of running a small engineering firm, making time to unwind isn't a luxury, it is a necessity. I have three young daughters with my wife Margaret, and we spend a lot of time outside enjoying the Florida sunshine. We have a thriving vegetable garden and an ever-expanding tree house which was engineered by staff at Henderson & Associates. My daughters and I spend weekends literally "learning the ropes" as we fashion ladders, swings and zip lines across the swamp. Our family is also heavily involved in Brazilian Jiu Jitsu which keeps us disciplined and in great shape, always ready for the next adventure.
What is your favorite book, movie or tv series?

I've really enjoyed the author S.C. Gwynne's books on American history. I just finished his book Rebel Yell about General Stonewall Jackson. I'm always jotting down notes on leadership and reading biographies is one great way to stay inspired and humbled.   
What is a fun fact about yourself

?! I played saxophone in high school marching band! I love listening to great rock and roll on max volume when I'm working out in the driveway. If I had another lifetime, I'd want to be in a band, playing to huge stadiums full of screaming fans. That energy and dynamism seems like a great time.