Member Spotlight - Margaret Nate
Image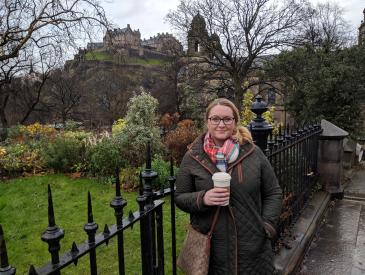 Maggie Nate originally joined Gibbs & Cox in 2017 as a Survivability Engineer and temporarily relocated from Northern Virginia to Halifax, Nova Scotia with her family in order to provide on-site support for Canadian naval programs.  When she returned to Virginia at the end of 2019, Maggie transitioned into the role of Department Manager for Survivability; a new department focusing on specialty engineering within G&C.  Prior to joining the Gibbs team, Maggie had a variety of naval platform assignments in the areas of Survivability and Test and Evaluation for various countries including serving as a Senior Test Engineer providing LFT&E support to PMS377, the USN amphibious warfare program office.  Originally an aerospace engineer, she has also previously worked at NASA Langley supporting Human Factors Integration and AAI Corporation on the Shadow unmanned aerial vehicle program. 
Maggie is a born and raised Virginian having grown up in Newport News and attended college in Blacksburg before settling in the Alexandria area.  Outside of work, Maggie is currently the Chair for Chesapeake Section and serves on the editorial board for (mt) Magazine and the Journal of Ship Production and Design.  In her spare time, Maggie enjoys triple integrals in spherical coordinates, taking keelboat sailing lessons with her husband (Justin), and cheering on the Hokies every chance she gets.
Get to know Maggie:
Q: How long have you been a member of SNAME?
A: I have no idea, HQ is going to have to look this up, I don't see a date in my bio on the SNAME site.  ~2014ish? (Just for the record, it is 2012 - SNAME HQ!)
Q: How has SNAME membership been of value to you in your career?
A: I would say the biggest value has been the connections and friendships I've made.  As someone who was not a SNAME member in college, being involved as a YP and beyond has really blessed me with an amazing group of friends who also happen to be my peers in the maritime sector that I can always rely on for career advice and to act as a sounding board.
Q: When did you know you wanted to pursue a job in the maritime field?
A: I started out in undergrad as an Aerospace Engineering major and had originally intended to stick to that career path.  All of my internships in college were aerospace driven.  But at Virginia Tech, our department included both Aerospace and Ocean Engineering so I ended up adding Ocean Engineering as a second major because many of the courses for one major fulfilled the technical electives for the other.  I ended up loving my Ocean courses and in my final semester, I took a course on the Principles of Naval Engineering taught by Dr. Alan Brown and I knew that this was the career path that I wanted to pursue after graduation.  The maritime field kind of happened by happy accident for me and that's where I've been for the past decade.
Q: What advice would you give to those entering the maritime field?
A:To definitely reach out to your local section especially if you're moving to a new area.  There are opportunities at the local level that range from volunteering for an executive committee role to giving a technical presentation.  Whatever you're looking for…meeting new people, taking on more responsibility, growing your soft skills, enhancing your technical knowledge base…your local section will have a place for you.
Q: What are your hobbies?
A: Outside of SNAME, you mean? J
I enjoy puzzles, sailing, watching VT football, and traveling to new places (currently on hold indefinitely)
Q: What is your favorite book or movie or tv series?
A: TV Series – Parks and Recreation…I've definitely been told more than once that I share many qualities with Leslie Knope (I take that as a compliment)
Book – To Kill a Mockingbird – Read it for the first time in 7th grade and continue to revisit it every few years.  Feel like I get more out of it every time I read.
Movie – The Princess Bride – Always thought I'd grow out of this movie someday but at 30+ years old, I still haven't hahah