Member Spotlight - Suzanne Beckstoffer
Image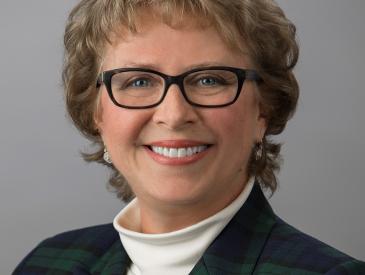 Suzanne Beckstoffer is an advocate for engineering education and financial literacy. She is President of the Society of Naval Architects and Marine Engineers (SNAME), an international professional organization for the maritime and offshore communities with 5,000 members worldwide.  She is also Chairman of the Board of BayPort Credit Union, a $1.7B financial institution with 140,000 members, headquartered in Newport News, VA.
She retired in 2016 as an Engineering Director at Newport News Shipbuilding, after a 30+ year shipbuilding career. During her tenure at NNS, she led the migration of the new FORD class aircraft carrier 3D product model to a new Product Lifecycle Management toolset; directed the company's Research & Development program; managed the installation of the Automated Steel Factory robotic cutting and welding lines for steel fabrication; and performed engineering and design activities for aircraft carriers, submarines, and commercial vessels. The Peninsula Engineers Council elected her Engineer of the Year 2015.
Suzanne holds a B.S. in Civil Engineering from North Carolina State University and an MBA from The College of William and Mary. She serves on boards at NC State University, Christopher Newport University, and the ABET Industry Advisory Council.
Get to know Suzanne:
Q: How long have you been a member of SNAME?
A: 38 years
Q: How has SNAME membership been of value to you in your career? 
A: SNAME is the core of my professional network.
Q: When did you know you wanted to pursue a job in the maritime field? 
A: My 10th grade math teacher, Mrs. Baldwin, took me to a weekend seminar on engineering careers for girls at NC State. I took one look at the water lab in the civil engineering building, and I was hooked!
Q: What advice would you give to those entering the maritime field?
A: Talk to people, make friends in the industry, volunteer, keep learning, and grow your network. A professional society like SNAME is the perfect way to do all those things.
Q: What are your hobbies?
A: I have written nonfiction for several years; I'm now branching out into fiction and working on my first novel. I also enjoy hand quilting and gardening.
Q: What is your favorite book or movie or TV series?
A: My current favorite show is Dr. Henry Louis Gates, Jr.'s show "Finding Your Roots" on PBS. I'm fascinated by the family stories, the secrets, the painstaking historical research, and the mysteries unlocked by DNA. It's also a marvelous commentary on the complex history of our country and how each of us got here.