Member Spotlight - Nathan Tyler Hagan
Image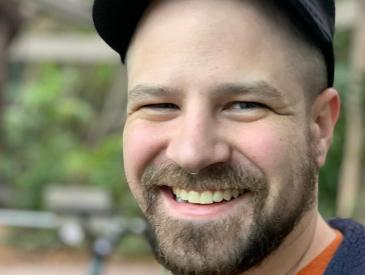 Mr. Nathan Tyler Hagan is a Naval Architect and Systems Engineer with 9 years of experience working for the Naval Surface Warfare Centers (NSWC) in Washington, DC. In his time working with the US Navy, he has been a member of the Structural Criteria and Risk Assessment Branch, serving multiple roles from analyst for ship structural design criteria, to program manager and software architect on the development of the Integrated Structural Design Environment (ISDE) software capability supporting early stage structural design for ships and submarines.

Mr. Hagan's structural engineering work has included input and development of US Navy Design Data Sheets for flight deck structural design, as well as serving as a subject matter expert for the Naval Sea Systems Command (NAVSEA) with regards to Arctic ice-hull interaction related to structural loading for design and analysis of Arctic operations for Naval vessels.

Since 2017, Mr. Hagan has served as the Digital Strategy Lead for NSWC Headquarters, serving as a technical advisor to the NSWC Executive Director on the topic of digital strategy, offering subject matter expertise on data analytics, systems engineering, modeling and simulation, and DevOps processes. In addition to an advisory role, he serves as the implementation manager for the NSWC Digital Strategy, translating guidance offered by the Chief of Naval Operations (CNO) into actionable technical programs, organizing stakeholders, tracking deliverables, and managing research and development investment resources to meet high level objectives.
Mr. Hagan received a B.S. Degree in Naval Architecture and Marine Engineering from Webb Institute in Glen Cove, NY, and a M.S. Degree in Systems Engineering from the Naval Postgraduate School in Monterey, CA. He currently lives in Reston, VA with his dog, Ringo, and husband, Justin.
A SNAME member since attending Webb Institute in 2008, Nathan has served in a number of SNAME leadership positions, from Student Steering Committee Chairman while in school, to serving as YP Chair, Secretary, Vice Chair, Chair, and now Treasurer of the SNAME Chesapeake Section. He currently serves on the SNAME Council and Executive Committee, as the Chair of the SNAME Publications Committee, and the Functional Vice President for Knowledge Management.
Get to Know Nathan:
Q: How long have you been a member of SNAME?
A: I have been a SNAME member since 2008, originally a member of the New York Met Section, and now a member of Chesapeake Section.
Q: How has SNAME Membership been of value to you in your career?
A: My SNAME membership has been an instrumental anchor to my career providing me the confidence and validation of community as I explored and stretched the technical capabilities and expectations of the traditionally defined "Naval Architect" role. SNAME has truly offered a professional network of career inspiration, mentors, technical resources, and most importantly life-long friends who share my obsession and passion for the maritime industry.

Q: When did you know you wanted to pursue a job in the maritime field?
A: I am probably the outlier, having known that I wanted to pursue a job in the maritime industry since I was 7 years old. I grew up sailing with my family on the Chesapeake Bay, with a father who served in the US Navy. Between quality memories on the water and a general awe of the scale of engineering and logistics that made maritime commerce possible, I had no choice but to answer the "call of the sea."
Q: What advice would you give to those entering the maritime field?
Q:  It is probably repetitive and annoying at this point if I said, "you should get involved in a professional society." But in all seriousness, my advice would be to think about just how complex the maritime industry is. Ships are insanely complex systems, made up of many different parts. My advice would be to not expect to do everything yourself. This industry is a team sport, and everyone has a part to play towards making safe, reliable, beautiful feats of engineering and logistics. This team sport nature, is exactly why professional societies matter.
Aside from that though, remember all of those people you work with who are "the experts" were once in your position. They also have moments of self-doubt. And the way they moved forward in their career and became "the expert" was by working hard, building confidence, and being willing to challenge the status quo. You have the ability to change the world and create the industry of the future. If there is something you want to see and don't, pick up a brush and start painting!
Q: What are your hobbies?
A: My hobbies outside of the professional world revolve around making, from drawing, painting, and constructing art installations, to collecting and building LEGO. My latest dive into hobbying has been cycling (with a goal of riding over 1000 miles in 2021) and building RC models of classic Chris Craft motorboats. Anyone who knows me knows I wear my hobbies on my sleeve, literally, with tattoos of LEGO, famous works of art, and maritime related imagery (including an amidship symbol). When I am not crafting or creating a new project, I spend my time giving back to my community, serving on numerous non-profit boards around my hometown of Reston, VA, including Reston Pride, and fundraising for the local historic trust & museum.
Q: What is your favorite book, movie, or TV series?
A: I wish I read more, but I can say I have watched Parks & Rec and Schitt's Creek like 100 times each.