Member Spotlight - Lourdes Elona-Lilley
Image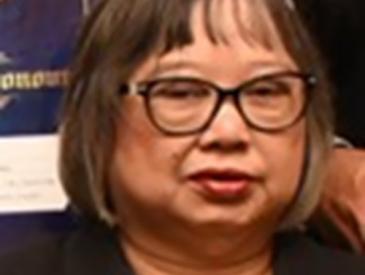 Ms. Lourdes Elona-Lilley has thirty-eight years of engineering experience in design and technical review of drawings. She was Naval Architect at the Philippine Dockyard Corporation, biggest shipyard in the country.
She spent over thirty years with ABS on technical review of drawings on yachts, high-speed crafts, barges, tankers, bulk carriers, tugs, offshore supply vessels, ro-ro vessels, ferries, SWATHS, ACV's, container vessels, cargo vessels, vehicle carriers, chemical carriers, passenger vessels, and other types of watercrafts. Her experience with ABS were for structural and statutory review.
Her career has spanned the globe from Philippines to New York City, New Jersey and Texas to London.
Ms. Elona-Lilley received a B.S. Degree in Naval Architecture and Marine Engineering and Mechanical Engineering from the NAMEI Polytechnic Institute in the Philippines. She had also had a degree in Mathematics from Adamson University and Computer Programming from Ateneo de Manila University. She also took courses in UK on subjects such as Maritime Economics, Lightweight Craft Design, Working Craft Design, Marine Powering, Transmission and Propulsion She holds both a CEng and PE license.
Her membership with SNAME began in 1986 at the Associate Member level and in 1991 became a member of SNAME. Since then, her passion and outstanding contributions to the maritime industry have led her to hold respective titles in numerous associations and societies including Chair & Founder of SNAME's Western European section and co-chair of SNAME T & R SD-4. Achieving the exclusive grade of SNAME Fellow and later being elected SNAME's Jr. Vice President, International, Lourdes now sits as SNAME's Sr. Vice-President -International.
Get to know Nina:
Q: How long have you been a member of SNAME?
A: I joined SNAME on 25 February 1986 in New York, USA.  I was awarded Fellow on 25 October 2018.
Q: How has SNAME membership been of value to you in your career?
A: I developed strong leadership. I founded the SNAME Western Europe Section which I believe is successful. I have been involved with starting the section in Scotland (University of Strathclyde), England (University of Newcastle), Philippines (STI NAMEI Polytechnic), Finland (Aalto University) and Spain (Polytechnic University of Madrid.)
I received the following awards on behalf of SNAME Western Europe Section:
LEADING MARITIME PROFESSIONAL SOCIETY - IMC GOLDEN SHIELD EXCELLENCE AWARDS 2017, UK CHAPTER

SNAME SUPER SECTION (2014- 2015), (2015-2016) & (2016-2017)

PROFESSIONAL EXCELLENCE AWARD AND OUTSTANDING CONTRIBUTION - IMC GOLDEN SHIELD EXCELLENCE AWARDS 2019, UK CHAPTER

SNAME MEMBER OF THE MONTH IN AUGUST AND SEPTEMBER  2015.
Q: When did you know you wanted to pursue a job in the maritime field?
A: It was accidental. I graduated B. S. Mathematics in the university in 1975. It was my parents desire to have a chemical engineer or chemist in a family as all my siblings are in the medical field. The intention is to do so after graduation from Mathematics degree. Teaching Mathematics and taking classes in the evening were hard work. As I could not   cancel my contract in the middle of the year, I decided to study subjects in a school closer to home under Mechanical Engineering Department. The school is the pioneer in Naval Architecture and Marine Engineering Degree as the owner was a graduate of Massachusetts Institute of Technology (MIT) and professors were graduates of University of Michigan when it was established.  After completing the courses with high grades, professors encouraged me to shift to Naval Architecture and Marine Engineering Degree to be the 3rd lady naval architect and Marine Engineer in the country after passing the Professional Engineers' exam.  I also completed the B. S. Mechanical Engineering degree in 1979.
Q: What advice would you give to those entering the maritime field?
A:
Develop skills as a leader, make new friends, connect with maritime professionals and attend local meetings by joining a Professional Society like SNAME.

Be inspired and motivated

Broaden knowledge and keep abreast with marine technology

Be Involved with something you are passionate about by playing an active role in the industry
Q: What are your hobbies?
A: Playing classical piano and golf, bowling, watching movies, listening to music, jewelry, sugar and card crafts, photography, cooking and baking
Q:  What is your favorite book or movie or tv series?
A: Any technical books like Principles of Naval Architecture, any movies with Morgan Freeman like Shawshank Redemption,  and for tv series, Alias, Leverage, Law and Order.